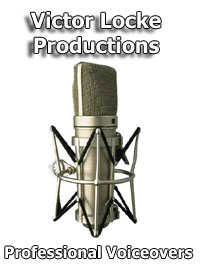 About Victor Locke
WORK EXPERIENCE:
Voice Over Artist: Local and national clients for industrial and training video?s, flash presentations, ON HOLD messaging and phone greetings etc.

Broadcast Specialist, Durango Government Television Manage, Program, Operate, Produce programming for the Durango City Channel.

Snow reporter, marketing department, Purgatory at Durango Mountain Resort
KSUT, Four Corners Public Radio, Durango, CO. News Director, Reporter, Producer for this powerhouse NPR station serving the Four Corners Area!
WPTA-TV, Ft. Wayne, IN. Assistant News Director, Morning/Noon Anchor, Reporter, Marketing, Pollster, Weathercaster, numerous other responsibilities at Fort Wayne's #1 TV Station for 21 Years
Radio News Anchor/News Director for 13 years at: WOWO, WSHI, WBYR, WFWI, WMEE, WMEF, Ft. Wayne, Indiana. WGOM, WMRI Marion, Indiana. WERT AM & FM, Van Wert, Ohio
Correspondent for Network Indiana, statewide radio network AFFILIATIONS (Past & Present):
Radio Television News Directors Association
Society of Professional Journalists
Native American Journalists Association
AP Broadcasters, American Red Cross PR Board
Licensed Amateur Radio Operator GENERAL:
Winner of various awards from Associated Press, United Press International, Colorado Broadcasters Association, Radio Television News Directors Association
Experience in major market radio, anchoring, reporting, public opinion surveying, consulting